Why US won't be center stage in new Israeli-Palestinian talks
A new round of Palestinian-Israeli talks is set to start Tuesday, and there are three main reasons why the US won't be playing the central role it often does in such negotiations.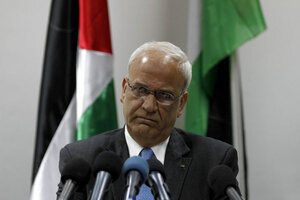 Mohamad Torokman/Reuters
The United States won't take its usual center-stage position when Israeli and Palestinian negotiators meet Tuesday for their first direct talks in more than a year.
The talks, set for Amman, Jordan, are designed to explore the potential for a return to formal direct peace negotiations, which collapsed in October 2010. They will include one meeting between Israeli and Palestinian representatives and another for those envoys to meet with the Quartet, the four world powers – the US, the European Union, Russia, and the United Nations – that have been pressing for a return to the negotiating table.
But the absence of the US from its traditional lead role is a telling sign of three realities, some Mideast experts say:
The US is in a diminished position in the region after the year of the Arab Spring – in which Washington was seen as hesitant to back the protesters – and the failure of President Obama's pledge in September 2010 to reach a peace accord within a year.
The advent of a tough election year means Mr. Obama is unlikely to jump into any peace initiative or to pressure Israel – something a Republican opponent could use against him.
Expectations for Tuesday's talks are low, offering the US little incentive to employ its diplomatic prestige.
Secretary of State Hillary Rodham Clinton did issue a statement Sunday lauding Jordan's role in arranging the latest talks and underscoring US support for resumed negotiations. "We are hopeful that this direct exchange can help move us forward," she said, adding that "the status quo is not sustainable and the parties must act boldly to advance the cause of peace."
---