Arab League signals mounting frustration with Syria
The Arab League will hold an emergency meeting Saturday to decide whether to pull its monitors from Syria amid continued violence. If the Arab League recalls its monitors, international pressure on Syria would mount.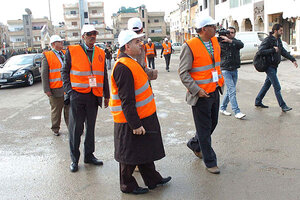 SANA/AP
Unabated violence in Syria could prompt the Arab League to pull its monitors from the country as early as this weekend – a move that would almost certainly ratchet up the pressure for broader international measures against the regime of Bashar al-Assad.
The Arab League plans to hold an emergency session Saturday to decide the fate of its monitoring teams, which arrived in Syria last week as part of a deal with the Assad government aimed at quelling a nine-month-old uprising. The United Nations estimates the violence has resulted in more than 5,000 deaths.
Anticipating the Arab League's meeting, diplomats from South Africa, which this week assumed the one-month revolving presidency of the United Nations Security Council, announced Wednesday that the council will meet on Syria next week to assess the Arab League's decision and to discuss possible action.
The Syrian government does appear to have pulled some heavy weaponry from opposition cities as called for in the Assad government's deal with the Arab League. But pressure is building for the League to cut short a monitoring mission that was supposed to last a month, with some League officials charging that the mission is for the most part providing cover for government forces to pursue their repression of antiregime protesters.
---