Underground Iran nuclear enrichment makes diplomatic path suddenly rockier (+video)
The nuclear enrichment at a once-secret underground facility in Iran, confirmed Monday by the UN, is seen as both an argument to resume negotiations and an obstacle to their resumption.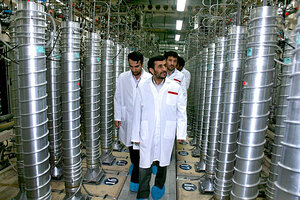 Iranian President's Office/AP/File
The United States and Europe say they still hold out hope for a diplomatic solution to Iran's nuclear threat, but news that Tehran has launched uranium enrichment underground is not going to make the road to resumed talks any easier.
Officials at the International Atomic Energy Agency, the UN's nuclear watchdog, confirmed Monday that Iran has begun high-grade enrichment operations at a once-secret facility whose construction was revealed in 2009.
Iranian nuclear officials had announced over the weekend that centrifuges installed in the underground Fardo facility near the holy city of Qom were ready to start spinning and enrich uranium to 20 percent purity – a major step toward the 90 percent uranium purity that would be needed to fuel a nuclear weapon.
State Department spokeswoman Victoria Nuland said Monday that enrichment to 20 percent at the Fordo facility constitutes a "further escalation" of Iran's violations of its international obligations. Iran is a signatory of the Nuclear Non-proliferation Treaty and a member of the IAEA.
The European Union has been pressing Iran to return to international talks on its nuclear program that broke down over a year ago – talks the Iranians say they want to restart – but critics say the West is being played by the Iranians.
---