Group blasts J. Lo and her ride, citing Fiat business dealings with Iran
Jennifer Lopez is under fire over her TV ad for Fiat. An anti-Iran group is asking her to renounce her endorsement of Fiat cars if the company does not end its sales to Iran. No word yet from J. Lo.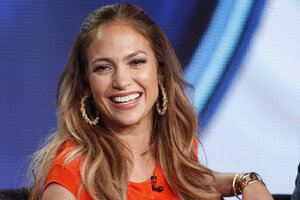 Danny Moloshok/AP
J. Lo, subliminal Iranian agent.
What? Well, you know those TV ads with Jennifer Lopez zipping around the Bronx in one of those new little Fiats? In the eyes of one anti-Iran group, helping to hawk Fiats makes her an accessory to Iran's crimes, including its advancing nuclear program.
And it wants the singer and America's favorite "American Idol" judge to stop.
It's probably news to Lopez, but doing the Fiat ads associates her with the Iranian regime's many transgressions, from enriching uranium and developing long-range missiles to repressing its own people's aspirations for freedom. That's the view, at least, of United Against Nuclear Iran (UANI), a New York-based group that promotes a tough international response to Iran's nuclear program.
In an open letter to Lopez Thursday, UANI President Mark Wallace demanded that the international star renounce her endorsement of Fiat products if the company does not end its business dealings in Iran.
"By endorsing Fiat, you are serving as a spokesperson for a company that freely does business with a regime that is developing an illegal nuclear weapons program, financing and sponsoring terrorist groups including al-Qaeda, has killed American and NATO soldiers and is recognized as one of the world's leading human rights violators," wrote Mr. Wallace, who served under the George W. Bush administration as the US representative to the United Nations for UN management and reform.
---