Regime change: How fear of Iran nukes, and campaign politics, revived the call
A tough-talking debate over pursuing regime change is all the rage again, this time focused on Iran. But proponents say they prefer economic sanctions to military force as the main lever.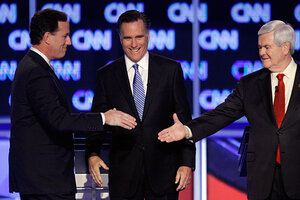 David Goldman/AP
Less than a decade after "regime change" became the rallying cry that defined the principal objective of the war in Iraq, the concept is gaining steam once again.
This time it's about Iran.
But this time around, proponents of regime change envision not a boots-on-the-ground war but ever-tightening economic sanctions as the preferred means of toppling what many in the US view as an outlaw leadership.
Sanctions, primarily a cut-off of Iran's oil income, would cause such disarray and social unrest, the thinking goes, that the Iranian people would rise up and do away with the root cause of the Iranian crisis, the country's leaders.
Others scoff at the idea of an externally induced revolution as wishful thinking, but say the rise of regime change rhetoric reflects the climate of a post-Iraq US election year where everyone wants to sound tough on Iran without endorsing an Iraq-style solution.
The idea that regime change is the only viable and lasting solution to the challenges posed by Iran – its advancing nuclear program, its sharpened brinkmanship over the Strait of Hormuz, its support for Islamist extremist movements around the world – has received growing attention and support from Republican presidential candidates vying to out-tough one another on Iran policy.
---