Can US and Russia cut a deal on Syria action? Both sides to give it a try.
With Russia balking at even a watered down Syria resolution and the Arab League concerned by the UN text's weakening, Hillary Clinton is set to meet with Sergei Lavrov in Germany.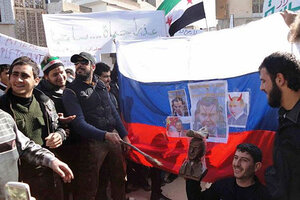 Reuters
United Nations Security Council members contemplated a watered-down resolution on Syria Friday, with Russia balking at any wording that could be construed as support for "regime change" targeting President Bashar al-Assad.
But with Western powers anxious for some Syria action, and with Arab League supporters unhappy with the changes already made in the text and insisting they will accept no further weakening, prospects were growing for a last-ditch, high-level diplomatic encounter to salvage the resolution.
Secretary of State Hillary Rodham Clinton and Russian Foreign Minister Sergei Lavrov are set to meet on the margins of the weekend's annual Munich Security Conference in Germany. The two will meet to discuss the Syria resolution among other issues, State Department officials said. Late Friday the Security Council scheduled a meeting for Saturday, but it was uncertain whether a vote would be taken.
The US wants a resolution on Syria, and thus the support of the veto-wielding Russia, but it also wants any resolution to contain the international community's demand for a political transition in Syria, officials said.
---