Why UN gridlock on Syria could encourage Israel to attack Iran
If the UN Security Council can't take action against Syria, then Israel might well conclude that the council will be impotent to stop Iran from building a nuclear weapon.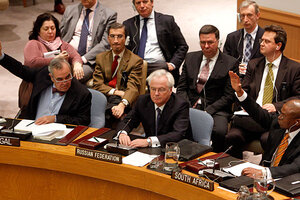 Jason DeCrow/AP
As Israel continues a lively debate on whether or not to strike Iran's nuclear facilities, the downbeat view in diplomatic circles at the United Nations is that the Security Council's gridlock on Syria increases the chances of an Israeli attack.
The diplomatic disarray over Syria sends the message that other daunting regional problems, such as the Iranian nuclear crisis, may also be out of reach of a negotiated solution, some diplomatic experts say. And with Russia so blatantly taking the side of its friend and client in the region, Syria's Assad government, Israel may well conclude that the same scenario would probably be repeated if world powers (including Russia) were to again try negotiating with Iran.
"The Security Council's inability to act on Syria increases the likelihood of an Israeli strike on Iran," says Michael Doyle, a former UN official now specializing in foreign and security affairs at Columbia University in New York. "Violence begets violence, and if Syria sinks into a civil war, which seems all the more likely now, Israel could see the growing instability as cover or as an added incentive to act."
---