Iran's good cop, bad cop act: agrees to talks, flaunts nuclear advances
Iran has agreed to return to talks about its nuclear program. But it also trumpeted advances in that nuclear program, showing that it wants to bargain from a position of strength.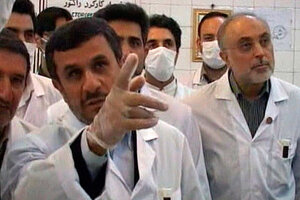 IRIB Iranian TV via Reuters TV/REUTERS
Iran's trumpeting of what it says are major advances in its uranium-enrichment activities overshadowed another announcement Tehran made Wednesday – that it has formally accepted an invitation from international powers to return to talks on its nuclear program.
But the two are closely related, nuclear experts say, because they reveal how Iran is trying to build up its image as progressing toward nuclear mastery even as it accepts a return to negotiations.
"With these kinds of announcements, the Iranians are making their best attempt to increase their negotiating leverage and enter these talks from a position of strength," says Daryl Kimball, executive director of the Arms Control Association in Washington. "This is designed for an international audience, but it's also for domestic consumption."
Iran announced Wednesday that its chief nuclear negotiator, Saeed Jalili, has formally accepted an invitation sent to Iran in October by the European Union's foreign policy chief, Catherine Ashton, to talks with the so-called P5+1 group of countries – the Security Council's five permanent members plus Germany.
It was not immediately clear under what conditions Iran had accepted returning to talks. European officials had said that Iran, at a minimum, would be required to suspend enriching uranium to 20 percent purity and to accept international inspectors to verify that suspension.
---