Xi Jinping in California: a glimpse of what China really wants
Chinese president-in-waiting Xi Jinping will spend most of his two-day California trip highlighting the two things that, perhaps, the Chinese people admire most about the US: films and basketball.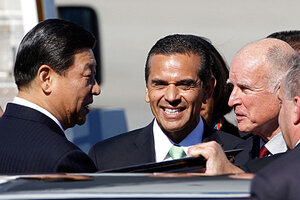 Damian Dovarganes/AP
Now comes the fun part.
After getting an earful from Vice President Joe Biden in Washington about intellectual property rights and a cuff full of hog leavings at a farm in Iowa, Chinese Vice President Xi Jinping now will tour Hollywood and hang with the people closest to the hearts of common Chinese people: movie executives and NBA basketball stars. He arrives Thursday afternoon and leaves Friday night.
Why is he here? "Oh, there must be 15 trillion reasons," quipped Jay Leno on last night's "Tonight Show," referencing the size of the US federal debt (for which China is a major creditor).
But the inside story is that teams of Chinese film-production specialists have been here for months working on a deal to be announced by Mr. Xi on Friday: DreamWorks Animation will jointly build and operate a studio in Shanghai with two state-owned Chinese media companies, Shanghai Media Group and China Media Capital.
---