Syria stalemate: Is Russia pushing Mideast into cold-war style conflict?
Russia is refusing to attend an Arab League-hosted meeting on Syria, and experts warn its stance could embolden Iran to stand firm against the West. The US meanwhile softened its stance on arming the opposition.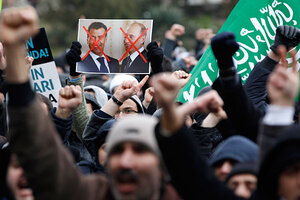 Murad Sezer/Reuters
Russia's decision not to attend a "friends of Syria" meeting in Tunisia later this week deepens the international community's divide over Syria and raises prospects of a cold-war-style proxy war in the Middle East.
An extended and deteriorating conflict in Syria will in turn have almost certain repercussions in Iran, including increasing chances of an Iran-Israel military confrontation, regional experts say.
With Secretary of State Hillary Rodham Clinton and a number of European foreign ministers set to attend the Arab League-hosted meeting in Tunis Friday, Russia's and potentially China's absence will make even more remote the possibility of any meaningful action on Syria in the Security Council.
Disunity at the international level will pave the way to more violence in Syria – and greater risks for the region, experts add.
"The standoff in the Security Council and Russia's determination to stand by its last meaningful ally in the Middle East means greater chaos in Syria," says James Phillips, senior research fellow for Middle Eastern affairs at the Heritage Foundation in Washington. "Arab countries and some European countries are going to find ways to arm a disjointed opposition, and violence is going to ratchet up."
---