Obama to AIPAC: 'I have Israel's back'
Addressing the American Israel Public Affairs Committee Sunday, President Obama pledged to prevent Iran from obtaining a nuclear weapon. Obama said he would "take no options off the table," including a military strike.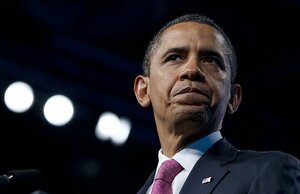 Carolyn Kaster/AP
Speaking Sunday to the American Israel Public Affairs Committee, the powerful pro-Israel lobby, President Obama issued a stern warning to Iran regarding its ability to deploy nuclear weapons.
"When it comes to preventing Iran from obtaining a nuclear weapon, I will take no options off the table, and I mean what I say," Obama said.
"That includes all elements of American power," he said. "A political effort aimed at isolating Iran; a diplomatic effort to sustain our coalition and ensure that the Iranian program is monitored; an economic effort to impose crippling sanctions; and, yes, a military effort to be prepared for any contingency."
There has been growing concern that Israel will attack Iran's nuclear facility before its regional adversary has the final capability to launch nuclear missiles at the Jewish state, and that it could happen sooner rather than later.
US assurances that Israel's powerful ally would use its military to protect Israel involve an important element of timing. With its greater military might, the US could wait longer than could Israel before launching a preemptive strike against Iran.
But there comes a point when Israel loses the ability to act militarily, former Middle East envoy Dennis Ross told the Monitor's Howard LaFranchi. The "zone of immunity" at which point Iran's progress toward developing a nuclear weapon is beyond military setback "arrives earlier for them than for us," Ross said.
That's a key reason for Obama's recent rhetoric regarding Iran. In his speech to AIPAC, he reminded listeners of Theodore Roosevelt's "talk softly but carry a big stick," his essential point in an interview with The Atlantic last week.
"I think that the Israeli government recognizes that, as president of the United States, I don't bluff," Obama told The Atlantic's Jeffrey Goldberg. "I also don't, as a matter of sound policy, go around advertising exactly what our intentions are. But I think both the Iranian and the Israeli governments recognize that when the United States says it is unacceptable for Iran to have a nuclear weapon, we mean what we say."
---