Poll finds American sympathy for Syrians, scant desire to intervene
Post-Iraq conflict fatigue appears to be replacing any 'bellicose itch' among Americans, according to a poll that finds US support for save havens in Syria if someone else sets them up.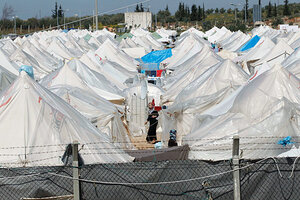 Murad Sezer/Reuters
Russia's president-elect, Vladimir Putin, may believe that the United States has a "bellicose itch," but Americans appear to be settling into a post-Iraq conflict fatigue in which foreign military intervention is viewed with disfavor.
The most recent evidence of this is a new poll on Americans' attitudes toward the conflict in Syria.
After months of exposure to repressive Syrian government actions and fighting that has claimed, according to the United Nations, more than 8,000 Syrian lives, about two-thirds of Americans say they support the idea of establishing safe havens inside Syria where civilians could find refuge. But that level of support comes on the condition that any such safe havens be established by others – the Arab League and Turkey – and not the US.
Americans split on the idea of the US providing air cover to help enforce such havens – 48 percent in favor to 45 percent opposed. But there is no ambivalence about sending US troops to join an international corps to protect the havens: Fully three-fourths of Americans say "no" to that option.
The findings, in a poll released Tuesday by the Program on International Policy Attitudes at the University of Maryland, mirror the results of a poll last week by PIPA on the US response to the Iran crisis. That poll found that Americans by a large margin prefer a negotiated solution over Iran's nuclear program to airstrikes against Iran's nuclear facilities.
---