Only faint hope for UN 'last chance' plan to avert civil war in Syria
The UN Security Council has approved a statement urging Syria to halt all violence by next Tuesday or 'further steps' will be taken. But what those further steps are is not clear.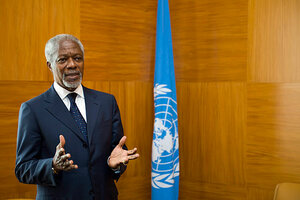 Martial Trezzini/AP
The United Nations Security Council unanimously called on Syria Thursday to "urgently and visibly" halt all violence by an April 10 deadline in what UN Secretary General Ban Ki-moon said was the "last chance" to save the country from civil war.
Meanwhile, a UN team was in Damascus Thursday to negotiate the deployment of a mission to monitor the potential cease-fire.
After months of failed attempts to act on Syria, the Security Council approved a nonbinding presidential statement that threatens "further steps" if the regime of President Bashar al-Assad fails to implement the peace plan that Mr. Ban's special envoy, former UN Secretary General Kofi Annan, concluded with President Assad last week.
The statement, sponsored by the United States, the council's rotating president, also calls on all other parties to cease "all forms" of armed action within 48 hours of the government pulling back from cities and ceasing its attacks.
---