North Korea as 'Oz': Pay no attention to the nation behind the curtain
In the run-up to its 'rocket' launch, North Korea put on a show for the global media. But amid the fanfare it's clear that isolation serves Pyongyang better than close world scrutiny. 'We don't really care about opinion from the outside,' said one official, bluntly.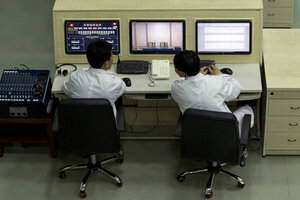 David Guttenfelder/AP
Bombast and Oz-style image-building have prevailed this week in North Korea, where the regime has thrown a press party to discomfit the world in the run-up to its planned launch of a long-range ballistic missile. But amid all the hype it showered on the global media came what may actually be one honest and unvarnished statement about the hermit-nation's intentions.
"We don't really care about the opinion from the outside," said Paek Chang-ho, chief of North Korea's satellite control center, as he reviewed with foreign journalists Wednesday what he said was the fuel-injection stage of missile launch preparations. "This is critical in order to develop our national economy."
Huh? Could it be that North Korea, despite its decades of antics aimed at impressing the world, really revels in the glorious isolation that has allowed its repressive system to survive?
Conventional wisdom would have it that Pyongyang, which has a record of acting out to get the world's attention, is having one of its don't-you-dare-ignore-me tantrums. The planned missile launch – a violation of UN Security Council resolutions barring the North from such potentially destabilizing actions – just happens to be scheduled for sometime over a period of days (Pyongyang says the launch will occur between April 12 and April 15) when the world will be focused on international talks with Iran over its nuclear program.
---