Amid threats to cease-fire, 'Friends of Syria' seek new ways to press Assad
At a meeting in Paris, the 'Friends of Syria' countries supporting the opposition are looking at further cuts in Syria's oil exports. But Russia says the group is undermining the cease-fire.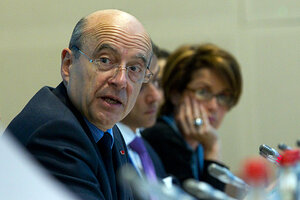 Gonzalo Fuentes/Reuters
With the UN-brokered Syrian cease-fire showing signs of falling apart, the Western and Arab countries supporting Syria's opposition are searching for ways to ratchet up the pressure on the regime of Bashar al-Assad.
Each side in the conflict is accusing the other of simply preparing for the cease-fire collapse that both seem to expect. Government forces have yet to pull all their heavy weapons out of population centers as called for in the six-point cease-fire plan, and opposition forces reportedly are using a partial lull in the fighting to amass arms.
In Paris Tuesday, the "Friends of Syria" group of countries met with the goal of further shutting off the Syrian government's spigot of revenue.
French Foreign Minister Alain Juppe, who told the gathering of more than 50 countries, including the United States, that the Assad government's financial resources have been halved by sanctions and other measures since October, called for additional coordination of measures to cut Syrian revenues further.
One target: Syria's oil exports, which have already been reduced by nearly a third since November – accounting for about $400 million a month in lost revenue – according to petroleum industry experts.
Mr. Juppe said that a central point of Tuesday's meeting was to "send a message" to President Assad to abide by the UN cease-fire plan he agreed to and to cooperate with UN monitors who have started to arrive in Damascus. Full implementation of the plan would result in the deployment of 250 UN "blue helmets" in Syria to monitor observance of the cease-fire.
---