Afghanistan attacks: Were signs of improved US-Pakistan ties just a mirage?
Despite optimism relations were rebounding, the attacks bore the signature of a Pakistan-based group, a reminder, as the US plans to exit Afghanistan, that Pakistan is at best a fickle partner.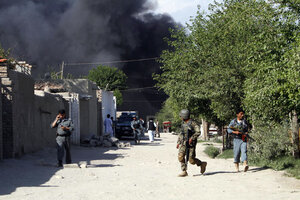 Rahmat Gul/AP
US officials voiced cautious optimism recently that relations with Pakistan, a critical but difficult partner, had survived a brush with a breaking point. One hope was that vital NATO supply lines through Pakistan into Afghanistan were about to be reopened.
But the weekend's coordinated insurgent attacks in Afghanistan, which US officials say bear the signature of a Pakistan-based militant organization that has for decades flourished under the protective wing of the Pakistani intelligence services, have raised new warning flags about Pakistan.
They serve as a reminder that the US – despite dispensing billions of dollars in military and civilian aid and receiving pledges of support in the battle with Islamist extremism – will have to factor in Pakistan as at best a fickle partner as it sets its course in a region that remains a threat to US national security.
"The attacks [in Afghanistan] show signs of involvement by groups benefiting from sanctuary" in Pakistan, "so certainly this is just another reminder of Pakistan's lack of action on its side of the border," says Lisa Curtis, a South Asia senior research fellow at the Heritage Foundation in Washington. "At the same time, this can't help but highlight the ongoing disagreements between the US and Pakistan."
The US will have one eye on Pakistan as it decides two critical policy issues on Afghanistan, regional experts say. One is the pace of the drawdown of about 60,000 US combat forces that will remain in Afghanistan by this fall. The other is the size, makeup, and focus of the military presence the US will seek to keep in Afghanistan as part of a long-term strategic partnership agreement.
---