Economic weather report by IMF's Christine Lagarde: 'umbrella' still needed
This weekend, Christine Lagarde oversees her first spring meetings of the IMF since taking its helm in July. On Thursday, she gave a mixed report on the global economy, citing 'dark clouds on the horizon.'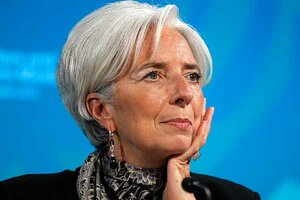 Charles Dharapak/AP
The international economics journalists who piled into the conference room at the International Monetary Fund's Washington headquarters Thursday morning might have thought they were in for a complex and technical-term-laden readout on the state of the global economy.
Instead, they got a weather report.
"We are seeing a light recovery blowing in a spring wind," said IMF Managing Director Christine Lagarde, who this weekend is overseeing her first spring IMF meetings since she took the helm of the international economic stability institution last July. "But," she added, "we are also seeing some very dark clouds on the horizon."
The meteorological analogy was almost folksy, but by putting the world's economic forecast in layman's terms, Ms. Lagarde seemed to be making this point: The global economy is not the rarefied domain of a few financial officials, macro-economic theorists, and multinational corporations, but rather is all about the well-being of the 7 billion human beings who populate the Earth.
As the former French finance minister (and onetime agriculture minister) quipped before launching into TV meteorologist mode, everybody is interested in the weather.
Lagarde spelled out what she means by a "light recovery in a spring wind." The IMF has upgraded modestly its forecasts for world economic growth in 2012 and 2013. Countries as varied as China and Greece came in for special praise: China for recently widening the band of fluctuation of its currency against the dollar – a move Lagarde said was "not at all a baby step" in addressing what many world leaders have complained is China's artificially low currency aimed at keeping its products cheap; and Greece for taking difficult decisions to right its financial ship.
---