In 1978 Egypt, Jimmy Carter had cachet. In 'new' Egypt, not so much.
Jimmy Carter brokered the Camp David Accords that normalized Egyptian-Israeli relations. This week Egypt's military rulers dissed the ex-president, refusing to allow his Carter Center to observe the presidential election next month.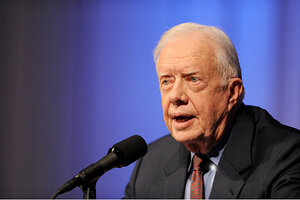 Erik S. Lesser/AP/File
The news photo captures an iconic moment of the second half of the 20th century: President Jimmy Carter stands flanked by Egyptian President Anwar Sadat and Israeli Prime Minister Menachem Begin, as the three leaders sign the 1978 Camp David Accords.
But that was then. This week Egypt's interim military rulers dissed the former US president, deciding that his Carter Center would not be issued a permit to observe Egypt's presidential election next month, the first since the fall of former authoritarian ruler Hosni Mubarak.
The Carter Center, recognized for its work monitoring elections around the world, was one of eight US-based nongovernmental organizations (NGOs) to be refused a license by Egypt's Social Affairs Ministry. The ministry said the permits were denied because the organizations "breach the country's sovereignty."
Egypt's military rulers have moved to restrict the work of foreign pro-democracy groups as the country approached parliamentary and presidential elections this year. In December Egyptian police raided the offices of democracy and human rights organizations, and in February the authorities charged 43 workers from five foreign NGOs with illegal activities.
---