Obama's secret trip: why he wanted quick signing of pact with Karzai
On the anniversary of the raid that killed Osama bin Laden, Obama flew secretly to Afghanistan to sign the Strategic Partnership Agreement with President Hamid Karzai.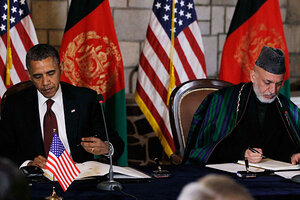 Charles Dharapak/AP
President Obama made a secret trip to Afghanistan Tuesday, the first anniversary of the raid into Pakistan that killed Osama bin Laden – and a day after Mr. Obama said there would be no "excessive celebration" of the Al Qaeda leader's demise.
Obama flew to Bagram Air Base in Afghanistan and then by helicopter to the presidential palace in Kabul, where he signed an agreement with President Hamid Karzai setting the course for US-Afghan relations once all American combat troops leave the country by the end of 2014.
After signing the Strategic Partnership Agreement shortly after midnight Kabul time, Obama told Mr. Karzai the new agreement was a testament to the partnership the two countries have forged in facing a common enemy.
"Neither Americans nor the Afghan people asked for this war, yet for a decade we've stood together," Obama said. "Today ... we look forward to a future of peace," he added, "Today we're agreeing to be long-term partners."
The president was set to deliver a national address to the American people at 7:30 pm EDT.
The Strategic Partnership Agreement sets the stage for a US military presence in Afghanistan well into the future, with an as-yet unspecified number of US troops remaining in Afghanistan to support the Afghan security forces and carry out counterterrorist operations.
---