Obama names ambassador to Myanmar: Is US moving too slow or too fast?
Rewarding the former pariah state for progress on reforms, Obama names the first US ambassador to Myanmar in two decades and announces a further easing of sanctions.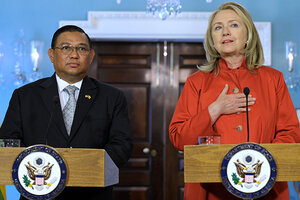 Susan Walsh/AP
President Obama named the first US ambassador to Myanmar in two decades and announced a further easing of economic sanctions Thursday, continuing a step-by-step policy of rewarding the former pariah state as it moves forward on political and economic reforms.
Calling the moves "the beginning of a new chapter" in relations with Myanmar, which the US still refers to as Burma, Mr. Obama said the new steps were part of the US making good on a pledge "to respond to positive developments in Burma and to clearly demonstrate America's commitment" to a continuing transition.
The administration's efforts to calibrate the lifting of US sanctions to the pace of reforms in Myanmar are not to everyone's liking. Some US lawmakers say the administration should be moving faster to lift all remaining sanctions, while some human rights groups criticize the actions taken so far as too much for too little – particularly in the area of minority rights.
Sen. Jim Webb (D) of Virginia said in a statement that, while he supports the actions taken Thursday, "I continue to believe that US policy must be more proactive." He says Obama should lift all economic sanctions on Myanmar, noting that the European Union has already done so – with the full support of Burmese pro-democracy activist and Nobel Peace Prize laureate Aung San Suu Kyi.
---