Afghanistan security for less? How low can NATO go?
As NATO leaders convene for the weekend summit in Chicago, one pressing issue is whether, and how much, the post-NATO-withdrawal Afghan security forces can be pared down to save money.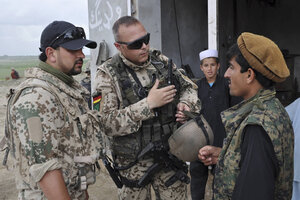 Sabine Siebold/REUTERS
Can Afghanistan administer an ethnically diverse and geographically challenging country, hold off an insurgency, and prevent Al Qaeda from taking up residence again, all with fewer than a quarter million security personnel?
That is one of the key questions that NATO leaders will take up at their two-day summit in Chicago beginning Sunday. After spending billions of dollars and providing years of training to create a national security force of army and police that numbers about 350,000, NATO and partner countries will mull a proposal to whittle that down to about 230,000 by 2015, when NATO's combat role will have officially ceased.
Driving the proposal to reduce Afghan security forces by about a third is economic reality, not necessarily conditions on the ground. The 230,000 number is only one of several options proposed by NATO commanders in Afghanistan based on different security scenarios, but it is the one that seems to be winning growing favor in NATO capitals.
The United States, which is likely to chip in for around half of the annual cost of keeping the security forces going, is tired enough of paying out, judging by attitudes in Congress and recent public opinion polls. European countries seem even less inclined to keep the funding going.
---