Obama and the NATO General: Different views on Afghanistan
At the NATO summit in Chicago, President Obama emphasized the coming end of the war. But Marine Gen. John Allen, the NATO Commander in Afghanistan, said US troops will be fighting there through 2014.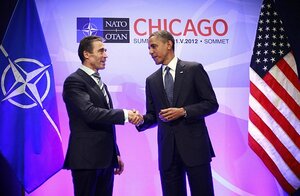 Pablo Martinez Monsivais/AP
President Obama, his re-election in the balance and polls showing Americans increasingly opposed to the war in Afghanistan no doubt on his mind, opened NATO's Chicago summit Sunday emphasizing the day when "the Afghan war as we know it is over."
But the NATO Commander in Afghanistan, Marine Gen. John Allen, had a different message. Noting "there is a narrative out there" that combat involving the US will end in 2013, General Allen said the reality is that US soldiers would be fighting right up until NATO ends its combat mission in December 2014.
The difference in the two men's messages reflects their two different offices: One must appeal to voters who are anxious for the war to end, and the other must command a war taking into account the reality he confronts on the ground.
RECOMMENDED: How well do you know Afghanistan? Take our quiz.
---