US expels Syrian envoy: a clear message whose impact is dubious
Joining with its Western allies, the US ordered Syria's top diplomat in Washington to leave the country to protest a massacre of civilians that included executions.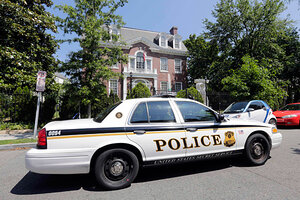 Kevin Lamarque/Reuters
The United States joined other Western nations Tuesday in ordering the expulsion of Syrian ambassadors and diplomats in response to a brutal mass execution of more than 100 people in Houla, Syria, over the weekend. But analysts voiced skepticism that the move would spur change from the Syrian regime.
There was little debate about the savagery of the attack. A United Nations report found that fewer than 20 of the deaths could be attributed to tank and artillery fire. According to local witnesses and survivors who were interviewed by investigators, most of the other victims "were summarily executed" by a pro-government paramilitary group, said Rupert Colville, spokesman for the United Nations High Commissioner for Human Rights.
The United States joined Britain, Canada, France, Germany and Australia Tuesday in announcing the coordinated expulsion of Syrian diplomats, declaring them "persona non grata."
In Washington, the Syrian charge d'affaires, Zuheir Jabbour, was given 72 hours to leave the country, according to State Department spokeswoman Victoria Nuland.
---