US halts talks with Pakistan on supply routes. Could ties get any worse?
A US negotiating team will leave Pakistan without an agreement on the routes, the Pentagon says. Both sides stand to gain from a deal, but 'the over-all crisis in the relationship won out.'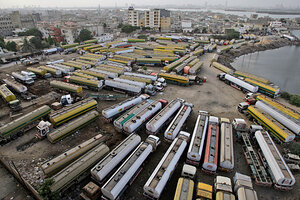 Shakil Adil/AP
The Obama administration has called off negotiations with Pakistan aimed at reopening supply routes for the war in Afghanistan, baring the depths to which US-Pakistan relations have plunged in recent months.
The Pentagon announced Monday that the US negotiating team that had been locked in discussions with Pakistani officials for months would leave the country without securing a deal. The announcement left some experts in US-Pakistan relations comparing the new low point in relations to 1989, when the US cut off aid to Pakistan over its unveiling of a clandestine nuclear weapons program.
"There are always peaks and valleys in any diplomatic relations, but in US-Pakistan relations it's been almost all valleys for a good period of time now," says Malou Innocent, a specialist in South Asian issues at the Cato Institute in Washington. "The question now is, how much lower can the valleys go?"
At the State Department, a spokeswoman, Victoria Nuland, said the US has no plans for resuming the talks, and suggested that a return to negotiations was now in Pakistan's hands.
---