Hillary Clinton to meet Egypt's new president: what is at stake
Hillary Clinton is delivering important US messages to Egypt's newly-elected president from the Muslim Brotherhood: on women, minorities, the peace treaty with Israel, and US support for democracy.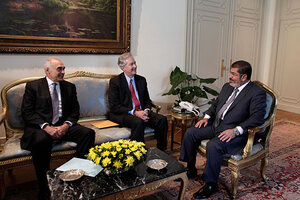 Maya Alleruzzo/AP
When Secretary of State Hillary Rodham Clinton sits down in Cairo this weekend with Egypt's first freely-elected president, she might have preferred he was a representative of the country's secular democratic political sector.
Instead she will be face to face with President Mohammed Morsi, of the Muslim Brotherhood.
But with the United States having supported the Egyptian revolution that swept Hosni Mubarak from power and resulted in the election of Mr. Morsi, Secretary Clinton will have no choice but to associate the US with the rise to power of political Islam in the traditional leader of the Arab world.
In her highly symbolic two-day visit beginning Saturday, Clinton's task will be to demonstrate America's support for the new democratic path Egypt has embarked on – even as she delicately underscores the priorities the US will hold to as it builds a new relationship with leaders it didn't prefer to see in power.
"This was never our favorite result, but on the other hand Secretary Clinton has been at the forefront of our urging Egypt towards democracy, so it would be hard to say now that we aren't going to recognize the democratic result," says Edward Walker, a former US ambassador to Egypt and Israel. "I think she understands we have to get [a problematic history with the Muslim Brotherhood] behind us, and see how we can move forward."
---