Hillary Clinton floats a Syria no-fly zone. How real an option for US?
In Turkey, Hillary Clinton called a Syria no-fly zone an option for the US. But Obama may be slow to choose it, and the remark may even have been a pointed signal aimed at Russia.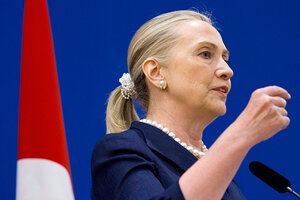 Jacquelyn Martin/AP
Secretary of State Hillary Rodham Clinton's confirmation that a no-fly zone is one of the options the United States is considering to address Syria's unabated bloodshed does not mean such a step is imminent.
In fact, it may have been uttered with the hope of making the need for such a leap to deeper American intervention in Syria's civil war less likely.
Secretary Clinton "may have intended this as a final shot across the bow to Russia" and other powers supporting the regime of President Bashar al-Assad, to say "we're trying to avoid something you'd be very unhappy about," says Michael O'Hanlon, a national security and defense policy specialist at the Brookings Institution in Washington. And that "something" Clinton may have been signaling, he adds, is that "with or without the United Nations, we are going to be getting more involved in this [conflict] if Assad remains in power" with outside help of his own and the war drags on.
Clinton spoke of a possible no-fly zone and other options for assisting Syria's rebels in their fight to oust Assad after her meeting in Istanbul Saturday with Turkish Foreign Minister Ahmet Davutaglu. Clinton said she and Mr. Davutaglu agreed that a no-fly zone and other assistance the rebels are seeking from Western powers "need greater in-depth analysis," adding that "you cannot make reasoned decisions without doing intense analysis and operational planning."
---