UN chief Ban in Tehran: Is he coddling Iran or just doing his job?
The decision by Ban Ki-moon to visit Iran for the non-aligned summit was criticized by the US and others, but the UN chief sees the trip as a chance to raise international concerns with the regime, as he did Wednesday.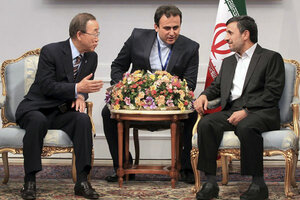 Mohsen Rafinejad/Presidency Office/AP
By visiting Tehran, is United Nations Secretary-General Ban Ki-moon simply doing his job as the chief representative of the international community – or is he allowing himself to be used by one of the world's most punished and problematic regimes?
Mr. Ban's arrival in Tehran Wednesday for the Non-Aligned Movement (NAM) summit and meetings with Iranian officials has spawned sharp criticism of the UN chief that he is playing into a pariah regime's drive for legitimacy.
But before he arrived, his spokesman Martin Nesirky called Ban's visit an "opportunity," saying he would not be shy about addressing "the clear concerns and expectations of the international community," and the UN chief wasted little time Wednesday in raising the issues of the violence in Syria and human rights abuses in Iran.
But that is unlikely to satisfy critics such as the US, Israel, Canada, and some other Western countries who see the UN chief's visit to Iran as suggesting international acceptance of the government's behavior at a crucial moment when it is accused of provoking the world with its nuclear program, its threats against Israel, and its role in the Syrian conflict.
Other critics say Ban's visit suggests that a world where democracy and human rights are expanding elsewhere – particularly in the Middle East – is forgetting how the Iranian government crushed its own pro-democracy revolution in 2009 and is becoming more repressive of the very universal rights the UN claims to defend.
A Ban visit to Tehran "would not send a good signal," State Department Spokeswoman Victoria Nuland said last week.
"We believe your attendance at the [Tehran] summit will only serve to legitimize a regime that is the world's greatest state sponsor of terrorism and that is pursuing an illicit nuclear weapons program in contravention of numerous UN Security Council resolutions, and whose leader just this month has called for the annihilation of the State of Israel, the latest in a series of similar statements," two US senators – Kirsten Gillibrand (D) of New York and Mark Kirk (R) of Illinois – said in a letter to Ban Tuesday.
---