UN report on Iran's nuclear progress signals tricky road ahead for Obama
Iran doubled its capacity at an underground enrichment site, the IAEA reported. Israeli officials say Netanyahu will ask Obama in September to commit to military action to prevent an Iranian nuclear weapons capability.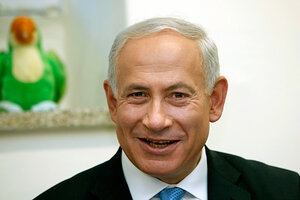 Gali Tibbon/AP
The United Nations nuclear watchdog agency's latest estimates of progress in Iran's uranium enrichment program are a guarantee – if there was ever any doubt – that Iran, and Israel, are two foreign policy issues that aren't going to sit on hold until after the US presidential election.
Israeli Prime Minister Benjamin Netanyahu is already putting the US on notice that he has no intentions of keeping his concerns about Iran in a pocket until after November. Mr. Netanyahu is expected to meet with President Obama when he is in the US in September to attend the UN General Assembly.
Netanyahu says he will focus on the dangers Iran poses to global peace and security when he addresses the assembly, and Israeli officials have said he will use the expected meeting with Mr. Obama to seek a US commitment to take military action to stop Iran from achieving nuclear weapons capability.
The International Atomic Energy Agency (IAEA) report finds that Iran has doubled the number of centrifuges at an underground nuclear site. Centrifuges are machines used to spin uranium rapidly to increase its purity for use in nuclear reactors – or to produce fuel for nuclear bombs.
---