How Arab Spring turned into protests and 'Death to America!'
An outbreak of violence in Afghanistan this weekend was testament to a clear trend: In Muslim countries now enjoying more political freedom, anti-American anger is coming to the surface.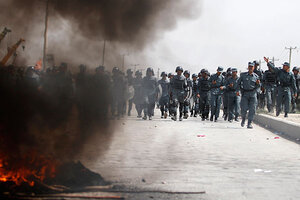 Ahmad Jamshid/AP
The shouts of "Death to America!" at Kabul University this weekend were not a good sign for US policy in the Middle East and across the wider Muslim world.
The wave of anti-American violence roiling the Middle East struck Afghanistan, with protesters pelting a NATO compound in Kabul with stones and at least six more NATO troops, including four Americans, killed Saturday by Afghan soldiers.
It is further evidence that pent-up frustrations are suddenly finding an outlet through the rise of political freedom across the region – and are likely to target the United States for some time to come. With the US helping to establish democracies in Afghanistan and Iraq, and last year's Arab Spring transforming Egypt, Tunisia, and Libya, several iron-fisted regimes have been replaced by weaker and still-developing governments that are sympathetic to a popular distrust of America.
---