White House pressured to tell more about Benghazi attack
Nearly two weeks after the attack in Libya that killed the US ambassador, it remains unclear what prompted it or the degree to which Al Qaeda or some other terrorist organization was involved. Critics say President Obama needs to explain and respond more fully to what happened.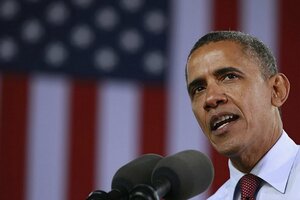 Kevin Lamarque/REUTERS
President Obama is under increasing pressure to explain and respond more fully to the Sept. 11 attack on the US Consulate in Benghazi, Libya, in which the American ambassador and three other embassy personnel were killed.
"The president needs to go on TV and set this right. It can't be about the election. It has to be about an American ambassador who was killed," Rep. Mike Rogers, chairman of the House Intelligence Committee and a former FBI agent, said on CNN's "State of the Union" Sunday. "He needs to be out front and leading on this issue. He shouldn't wait until after November."
Over on "Fox News Sunday," Obama campaign adviser and former White House press secretary Robert Gibbs was pushing back against critics who say the administration's message on the issue has been conflicted or confusing.
---