Ahmadinejad nears last UN speech: expect a doozy
Mahmoud Ahmadinejad is in the US ahead of his last speech to the UN as Iranian president Wednesday, and he's already living up to his reputation as a provocateur.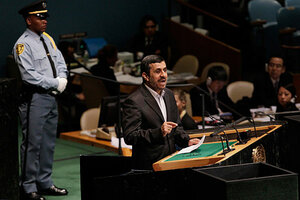 Shannon Stapleton/Reuters
Iranian President Mahmoud Ahmadinejad takes his final bow at the United Nations this week, and he's likely to go out more like a lion than a lamb.
The global provocateur may be winding up his second and final term as president in dispute with Iran's supreme leader, Ayatollah Ali Khamenei, and held in low esteem by the Iranian public as Iran's economy falters under tough international sanctions.
But if his first comments after landing in New York for this week's UN General Assembly are any indication, Mr. Ahmadinejad can be expected to outrage again when he speaks Wednesday from the UN podium.
Speaking to reporters Monday, Ahmadinejad dismissed Israel as having "no roots in [Middle Eastern] history" and ridiculed Israel's threats to launch airstrikes against Iran's nuclear facilities. "We do not take seriously the threats of the Zionists," he said. "We have all the defensive means at our disposal, and we are ready to defend ourselves."
Prospects for surprise Israeli military action against Iran have roiled US-Israel relations in recent weeks, with President Obama and Israeli Prime Minister Benjamin Netanyahu openly disputing whether it's time for military action. Some foreign-policy experts predict Israel will reluctantly wait until after US elections for clearer support from the US. In the meantime, they say, Ahmadinejad is using the threat of attack to trot out his trademark bravado while trying to boost his standing at home.
---