Hillary Clinton: Iran will do 'whatever it takes' to prop up Syrian 'crony'
Secretary of State Hillary Rodham Clinton said Friday that the US would send another $45 million in aid to Syrian rebels. But that pales in comparison to what Iran is doing to save President Assad.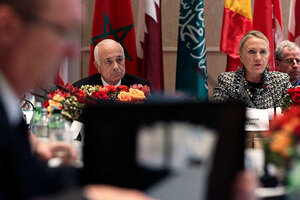 Shannon Stapleton/REUTERS
According to the United States, a lack of coordination among the various rebel groups taking control of growing swaths of Syria is one of their principle weaknesses.
To help remedy that, Secretary of State Hillary Rodham Clinton on Friday announced an additional $15 million in communications equipment to enhance cooperation among Syria's opposition players – from rebel fighters to the new "revolutionary councils" popping up to administer local services in liberated zones.
Secretary Clinton unveiled the new aid package at a New York meeting of countries working with the Syrian opposition. And she used the meeting to call attention to the threat she said Iran poses with its deepening involvement in the Syrian civil war.
"Let's be very frank here," Clinton said. "The [Bashar al-Assad] regime's most important lifeline is Iran."
Adding that "there is no longer any doubt that Tehran will do whatever it takes to protect its proxy and crony in Damascus," she urged Syria's neighbors to take the necessary precautions to stop Iran from smuggling weapons and materiel into Syria through their air space or territory.
Clinton also announced $30 million in additional humanitarian aid for Syria's beleaguered civilian population. Experts estimate that as many as 1.5 million Syrians may now be internally displaced, while soon as many as 700,000 will have left the country.
Friday's meeting underscored how the major Western powers supporting the Syrian opposition continue to limit their aid to nonlethal military and humanitarian assistance, as well as some advisory help for civilians. By contrast, Iran and other outside players supporting President Assad are supplying him with arms and even boots on the ground.
---