Turkey shells Syria: Will NATO be drawn into conflict?
Turkey shells Syria in retaliation after Syrian fire kills 5 civilians in a border village, and experts say NATO's subsequent statement of support could make Ankara even bolder.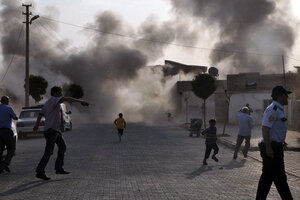 Rauf Maltas/Anadolu Agency/Reuters
The United States expressed "outrage" at the deadly shelling of a Turkish border village from inside Syria Wednesday. But even as Turkey retaliated against Syria, the resulting heightened tensions are unlikely to translate into military action by the US or any of Turkey's NATO partners.
NATO's strong formal statement of support for Turkey late Wednesday, however, even after Turkish forces responded by shelling targets in Syria, suggests to some regional experts that Turkey will now feel emboldened to confront the regime of Syrian President Bashar al-Assad in the event of further provocations – or perhaps even without them.
"Assad will see that it would be suicidal for him to provoke any further the NATO powers strongly backing Turkey, so he will step back," says Soner Cagaptay, an expert on Turkey at the Washington Institute for Near East Policy. "But that will mean that, down the road, Ankara will see that it has more opening to retaliate against any Syrian actions or even to move first militarily against a particular threat if it feels it has to."
Secretary of State Hillary Rodham Clinton joined NATO Secretary General Anders Fogh Rasmussen and United Nations Secretary-General Ban Ki-moon in warning the Syrian regime over the potential dire consequences of provocative actions such as the morning shelling that killed five civilians in the Turkish village of Akcakala.
"We stand with our Turkish ally," the White House said in a statement. In a phone call with Turkish Foreign Minister Ahmet Davutoglu, Secretary Clinton pledged US support for Turkey in the UN Security Council.
The Syrian shelling, apparently by government forces, was not the first fatal attack from Syrian territory to strike Turkey this year. Cross-border shootings have resulted in Turkish deaths, and in June the Syrian military shot down a Turkish jet that strayed across the border.
---