Lesson from Turkey mortar strike: Russia still has Syria's back
Some experts thought they saw signs of Russian support for Syria wavering. But now Russia is forcing the UN to water down its condemnation of Syria for its mortar attack on Turkey, suggesting that the bond is still strong.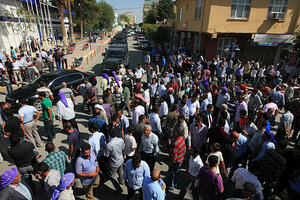 AP
Even as the Syrian conflict threatens to deteriorate into a regional conflict, the United Nations Security Council is finding it difficult to overcome its months-long deadlock and respond in unison to Syria-Turkey tensions.
Russia on Thursday stopped adoption of a Council statement that would have condemned Syria for its shelling Wednesday of a Turkish border village, saying it wanted a more evenhanded text.
In blocking the draft statement, Russia cited Turkey's quick retaliation – in the form of artillery strikes at Syrian military installations – for what the government of President Bashar al-Assad said was a mistake. But beyond the specifics of Wednesday's shelling exchange, Russia's action suggested Moscow is not wavering in its support of Mr. Assad as some Western officials have recently speculated.
UN Secretary-General Ban Ki-moon expressed his alarm at "escalating tensions" along the Turkish-Syrian border. Mr. Ban was particularly concerned that "the risks of regional conflict and the threat to international peace and security are also increasing," his spokesman, Martin Nesirky, said in a statement Thursday.
---