Mitt Romney wants to arm Syrian rebels: What are the risks?
Extremist elements, some affiliated with Al Qaeda, appear to be playing a growing role in the fight against the Assad regime, posing a challenge to proposals, such as Romney's, to arm the Syrian rebels.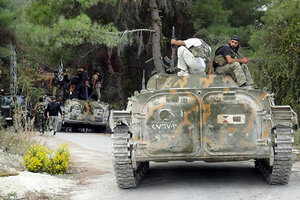 Edlib News Network (ENN)/AP
Mitt Romney announced this week that as president he would make sure Syria's rebel fighters get the heavy arms they seek to bring down President Bashar al-Assad's helicopters and fighter jets.
But with extremist Islamist elements – some affiliated with Al Qaeda – appearing to play a growing role in the fight to defeat Mr. Assad, the question becomes, how could the United States, under a President Romney or otherwise, ensure that weapons like shoulder-fired missiles not fall into the hands of anti-Assad forces that are just as vehemently anti-US?
Last month's attack on the US Consulate in Benghazi, Libya, in which Islamist extremists at least loosely affiliated with Al Qaeda are thought to have used high-powered weapons acquired in the chaos of Libya's conflict last year, serves as an example of what can happen when weapons fall into the wrong hands.
The threat of high-impact weapons making their way to Al Qaeda and like-minded organizations surged into the open Tuesday – a day after Mr. Romney declared in a speech that he would work with allies to ensure that Syria's rebels received antiaircraft weaponry – when an Al Qaeda-affiliated group in Syria claimed responsibility for coordinated attacks on Syrian Army and intelligence installations outside Damascus.
---