Petraeus to testify: What Congress wants to know about Benghazi attack
Resigned CIA Director David Petraeus has agreed to testify to congressional intelligence panels about the Sept. 11 attack on the US consulate in Benghazi, Libya. It'll be a closed-door meeting, but here's what lawmakers are poised to ask him.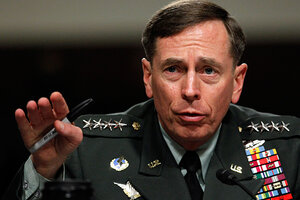 Pablo Martinez Monsivais/AP/File
Now that former CIA Director David Petraeus has agreed to testify before the Senate Intelligence Committee, his words immediately become the focus of the congressional investigation into the Sept. 11 terrorist attack in Benghazi, Libya.
Congressional intelligence committees will hold closed-door hearings Thursday about the attack, and are set to hear from acting CIA Director Michael Morell and other Obama administration intelligence officials. Mr. Petraeus had been slated to appear at those hearings until he abruptly resigned as CIA chief on Friday over an extramarital affair.
It was not clear Wednesday morning if Petraeus would take part in the Thursday hearings or testify at a separate meeting, perhaps Friday. But it is clear that Petraeus is the one from whom congressional leaders want to hear.
Even before Petraeus's resignation, there were plenty of unanswered questions about the attack on the US consulate in Benghazi and the response of the Obama administration and the CIA. Congressional intelligence leaders see Petraeus as central to getting to the bottom of the Benghazi attack, especially now that it is known that CIA operations in Benghazi dwarfed those of the small and thinly protected consulate, that two of the four Americans killed in the assault were CIA contractors, and that Petraeus was embroiled in an investigation into an extramarital affair even as a separate probe into the Benghazi attack heated up.
---