Gaza conflict offers Egypt's new leader a defining 'moment,' but it's brief
The Gaza crisis has put Egypt's President Morsi in a tight spot, caught between his sympathy for Hamas and his country's reliance on the US. If he chooses to play the role of mediator, he may have little time.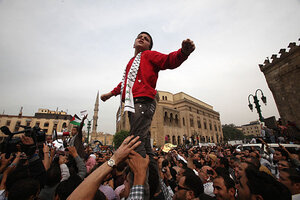 Thomas Hartwell/AP
The hostilities threatening to escalate into all-out war between Israel and Palestinian militants in Gaza concern the two antagonists first and foremost, but the course the fighting takes is likely to be equally consequential for Egyptian President Mohammed Morsi – and for his relations with the United States.
Egypt's Islamist president finds himself pulled in competing directions by the head and the heart. The fighting this week – the result of heavy Israeli retaliation for escalating rocket fire from Gaza into southern Israel – has the Islamist Mr. Morsi in a tight spot: caught between his co-religionists across the border in Gaza, on one side, and Washington, upon which a struggling Egypt relies for economic and military assistance, on the other.
For some Middle East analysts, this could be a moment for Morsi to emerge and establish himself as a leader to be reckoned with in the unstable and leaderless post-Awakening Arab world. But successfully maneuvering this moment will take time. And with Israeli soldiers amassing on Gaza's border, the analysts add, it's unclear whether Morsi will have the chance to even take the leadership test the situation presents.
"Morsi is definitely between the proverbial rock and hard place, but if he can pull together the elements to convince Hamas to stop the rockets … and he can defuse this situation, then I think he can emerge as a leader in the region," says Aaron David Miller, a Middle East scholar at the Woodrow Wilson International Center in Washington. "But he needs time and space to try to do it, and I'm not sure the Israelis are going to allow him that time."
---