Palestinians push for elevated UN status: Did Gaza conflict help?
Some nations are warming to Palestinian Authority President Mahmoud Abbas's bid for enhanced UN status. After the Gaza conflict, they see the moderate Abbas as a counterweight to Hamas.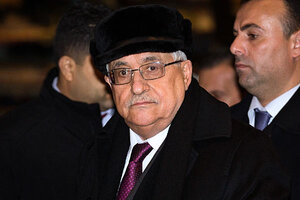 John Minchillo/AP
The United Nations is poised to give Palestinians enhanced status in its General Assembly Thursday – despite intense opposition from the United States and Israel – partly in an attempt to head off the rise of Hamas after the recent Gaza missile conflict.
The Palestinian bid for nonmember observer status has long been expected to succeed, because a majority of the General Assembly's 193 voting members support Palestinian statehood. But a number of countries are warming to the UN bid following the fighting between Israel and Hamas, the militant Islamist organization that governs Gaza. They see the vote as a way to bolster Palestinian Authority President Mahmoud Abbas, who is behind the UN effort and who is seen as a moderate counterweight to Hamas.
France, Portugal, Denmark, Switzerland, and other Western European nations have announced in recent days they will vote in favor. Even Britain, which once opposed the move, now says it will abstain in the vote – even as it leaves the door open to voting in favor if the Palestinians make last-minute concessions that the government of Prime Minister David Cameron seeks.
---