War crimes in Syria: Time to appeal to International Criminal Court?
Fifty-seven countries on Monday urged the UN Security Council to ask the International Criminal Court at The Hague to investigate possible war crimes in Syria. The call comes as other groups report a spike in sexual violence in Syria.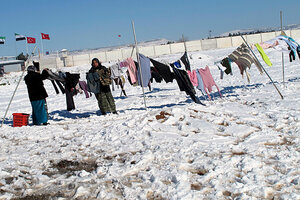 Abdalghne Karoof/Reuters
With international frustration growing over the big powers' inability to take any action on Syria, some countries are urging the United Nations Security Council to refer Syria's mounting humanitarian and human-rights disaster to the International Criminal Court (ICC).
The demand for international judicial action came Monday in a letter authored by Switzerland and signed by 56 other countries. The call coincided with fresh alarms from international rights organizations concerning what one called the "staggering" humanitarian tragedy unfolding in Syria.
One organization issued a report finding a rise in the use of sexual violence in the nearly two-year-old civil war, with growing numbers of women and girls fleeing the fighting claiming to be the victims of gang rapes – sometimes committed in front of other family members.
Another group that tracks the fighting reported that Monday was the deadliest day of the war yet for children, with reports of 21 Syrian children killed in attacks.
The latest examples of violence, in a war that UN authorities say has already claimed more than 60,000 lives, served as a backdrop to the demand for referral of the Syrian crisis to the ICC.
Some skeptics of the ICC route say that, while the Swiss letter reflects understandable desperation in the international community to find a way to overcome the Security Council impasse on Syria, going to the court in The Hague would have no effect on the civil war. Other critics say the ICC route could actually put off resolution of the conflict by convincing Syrian President Bashar al-Assad that his only alternative is to stay put and fight.
---