UN unanimously condemns North Korea rocket launch: why China joined in
China's support for the US-sponsored Security Council measure sends a message to North Korea that any future missile launch or nuclear test will likely be met with harsher UN sanctions.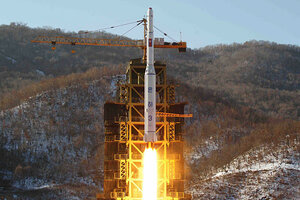 KCNA/AP/File
China's support Tuesday afternoon for a US-sponsored Security Council resolution condemning North Korea for a December rocket launch suggests both Beijing's desire to find common ground with Washington where possible – and its growing concerns over Pyongyang's provocative acts.
The resolution, approved by all 15 UN Security Council members, tightens existing sanctions on North Korea by adding its space agency and a list of additional individuals, including the head of the North's space agency, to existing measures.
Pyongyang claimed the December launch was aimed at putting a communications satellite in space, but the US, South Korea, and Japan said the three-stage rocket was really a testing of long-range missile technology that North Korea is banned from using under existing UN resolutions.
Diplomats at the UN say the significance of Tuesday's resolution is primarily the signal it sends to Pyongyang about the willingness of its key supporter – Beijing – to join the US in condemning it. But China's cooperation on the resolution is also seen as part of China's push, under new leader Xi Jinping, to improve relations with South Korea.
Chinese state-run media reported Tuesday that China's vote reflected a desire to work "constructively" with Security Council partners. Foreign Ministry spokesman Hong Lei said the Chinese government was expressing "regret that [North Korea] went ahead with the launch amid widespread concerns by the international community," according to China Daily.
---