Why elections in Israel may not bring better ties with US
Benjamin Netanyahu appears to have won a new, if narrow, mandate to lead Israel, and key disagreements remain: over Middle East peace, and how to deal with Iran's nuclear program.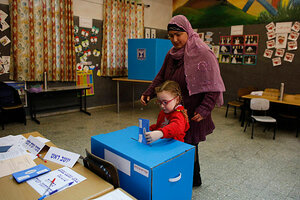 Ammar Awad/Reuters
Elections can sometimes lead to new beginnings and bold initiatives, but few Middle East experts expect a rosy hue to suddenly color US-Israel relations after Tuesday's national elections in Israel.
Two key reasons explain why recent tensions in relations are likely to continue, analysts say: differences over the approach required to further Arab-Israeli peace on the one hand, and what some anticipate as a coming clash over Iran and its advancing nuclear program.
A third factor is less clear-cut: what the election results will mean for relations between Prime Minister Benjamin Netanyahu and President Barak Obama.
Exit polls in Israel indicate that Mr. Netanyahu has won a new if narrow mandate in Tuesday's voting. Netanyahu has already had uneasy relations with Mr. Obama, who has just begun a second four-year term. Experts will be looking to the makeup of Netanyahu's new governing coalition and his choice for foreign minister as indications of how much personal friction will persist.
In the meantime, the Israeli electorate has shifted farther to the right on the question of reaching peace with the Palestinians, Israel experts say.
The result is a formula for what are likely to be more rough days ahead for the relationship.
Surveys taken Tuesday afternoon suggested more Israelis went to the polls than anticipated. Exit polls suggested that Netanyahu, while still heading the largest party in the Knesset, could end up working with a weakened coalition and less solid support than he had anticipated.
The exit polls also indicated parties demanding a fresh approach be taken with the Palestinians were doing better than anticipated. But most analysts believe Netanyahu will be faced with an Israeli electorate that sees little chance for peace with the Palestinians – and which perceives the tumult in Israel's neighborhood as a moment to batten down the hatches, not launch new initiatives.
---