US sees signs that China is tiring of North Korea's antics
North Korea is sending out dire threats daily and could carry out a nuclear test. Even China, North Korea's strongest ally, is increasingly willing to cooperate with the US to chasten the rogue nation.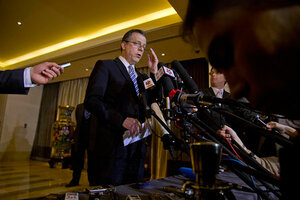 Ng Han Guan/AP
US officials are taking heart in mounting evidence that China, while still worried about the repercussions of a North Korean collapse, is tiring of protecting its troublesome ally.
Though wary of each other on other international issues, the United States and China are demonstrating renewed cooperation as North Korea ratchets up its belligerence with threats of an imminent nuclear test.
First, the two world powers reached a compromise that allowed unanimous passage earlier this week of a UN Security Council resolution condemning a December long-range rocket test and tightening sanctions – a vote that prompted North Korea to threaten "all-out action" against "big countries."
Then at talks in Beijing on Friday, the US envoy for North Korean issues, Glyn Davies, said that the US and China "achieved a very strong degree of consensus" on how to confront North Korea's latest threats.
That comment came as Beijing's Global Times newspaper, which is aligned with China's ruling Communist Party, said in an editorial Friday that "if North Korea engages in further nuclear tests, China will not hesitate to reduce its assistance" – an unusually blunt warning.
Passage of the UN resolution and other signs of growing international unity suggest Pyongyang should consider itself on notice, some regional analysts say.
"A new game is on with North Korea," and this week's UN resolution "indicates that any new nuke test or missile launch will bring yet another round of even stronger and more targeted sanctions," says George Lopez, a former UN monitor of North Korea sanctions and a professor of peace studies at the University of Notre Dame in South Bend, Ind.
---