In State of the Union, Obama calls for free-trade pacts of historic scope
Obama's State of the Union bid to create vast free-trade areas with Europe and Asia signals that, by the end of his presidency, two pillars of a globalized trading system could be in place.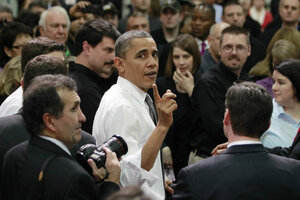 Jason Reed/Reuters
Cheaper Italian pasta in US supermarkets? More Mustangs prowling the byways of Provence?
President Obama's announcement in his State of the Union address Tuesday night that the United States and European Union will begin negotiating creation of the largest free-trade area in history may have visions of cheaper imports from the other side of the Atlantic dancing in consumers' heads.
But perhaps the most significant impact of a trade partnership between two mammoth economies that already make up half of all global output – and a third of global trade – would be the streamlined investment rules and product standards and elimination of trade barriers that would become the model for international trade.
"This really is more global than it is bilateral," says a senior European official.
For both US and EU officials, a transatlantic free-trade deal with global ramifications would be a way of getting around global trade talks launched in 2001, called the Doha Round, which have gone nowhere.
Negotiating a US-EU trade partnership, even as the US is negotiating a Trans-Pacific Partnership (TPP) envisioned as a prototype for a vast Asia-Pacific free-trade area, could mean that before the end of Mr. Obama's presidency two major pillars of a globalized trading system would be in place.
---