US 'pivot to Asia': Is John Kerry retooling it?
A focus of American resources on Asia was a major priority when Hillary Rodham Clinton was secretary of State. But it is unclear if John Kerry will follow her approach exactly, many regional analysts say.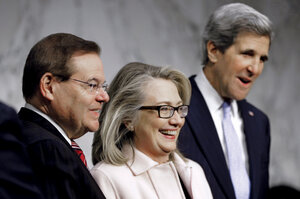 Pablo Martinez Monsivais/AP
When John Kerry spoke at his confirmation hearing to become secretary of State, Asia experts took notice when he seemed to back away from a key aspect of President Obama's vaunted "pivot" to Asia.
"I'm not convinced that increased military ramp-up [in the Asia-Pacific] is critical yet," Mr. Kerry said at the January hearing. "That's something I'd want to look at very carefully."
The "rebalancing" of America's focus and resources – away from the Middle East and toward a rising Asia – was considered part of the legacy of Kerry's predecessor, Hillary Rodham Clinton. China had been put on notice that the United States was reasserting itself as an Asia-Pacific power. But was Kerry suggesting, as some surmised, that the US would now focus more on engagement with a rising China? Was he signaling that the "pivot to Asia" is no longer a guiding priority?
Or, as a senior State Department official suggests, was Kerry simply saying that the US, which has played a key role in Asia's security and prosperity for decades, will be cautious not to do anything that might jostle the region? "Anything that could upset [what we've helped accomplish in Asia] has to be looked at very carefully" – including a potentially unsettling military buildup, says the official, who spoke on condition of anonymity.
---