NATO meeting: Chuck Hagel misses his debutant ball
With the nomination of Chuck Hagel in limbo, Defense Secretary Leon Panetta travels to Brussels to warn other NATO defense chiefs about effects from US budget battles.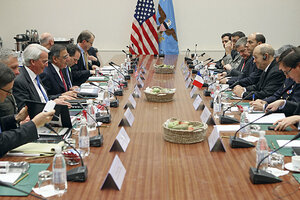 Chip Somodevilla/Reuters
Defense Secretary Leon Panetta is meeting with NATO defense chiefs in Brussels to deliver the news that Washington's unresolved budget battles will have an impact on US participation in Europe's defense and the alliance's military readiness.
Underscoring an image of Washington dysfunction is the fact that Secretary Panetta, who bid farewell to the Pentagon last Friday, had to take this trip at all.
Under other circumstances, this week's NATO meeting would have been the debut event for former Sen. Chuck Hagel (R), President Obama's nominee to replace Panetta.
But Mr. Hagel's Senate confirmation is stuck in limbo with Congress on recess this week. The troubled nomination suffered a new setback Thursday when a group of 15 Republican senators called on Mr. Obama to withdraw Hagel's nomination.
The senators – among whom is Lindsey Graham of South Carolina and James Inhofe of Oklahoma, ranking member of the Senate Armed Services Committee – justified their demand by saying it would be "unprecedented for a Secretary of Defense to take office without the broad base of bipartisan support and confidence needed to serve effectively in this critical position."
---