Just as Nixon went to China, should Obama go to Iran?
World powers, and the US in particular, need a game-changer to move Iran to a cooperative stance concerning its nuclear program, a few analysts argue. Such an Obama overture to Iran is a provocative idea, they say, but the alternative may be military confrontation.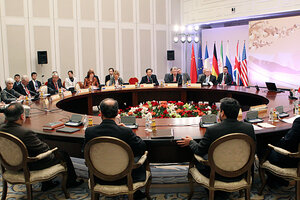 Stanislav Filippov/AP
In the 34 years since its revolution, Iran has marked key gains in the Middle East and pursued a nuclear program that shows little signs of slowing, despite a barrage of Western economic sanctions. Is it time for the United States to switch course and make a Nixon-to-China move vis a vis the Islamic republic?
That provocative idea, at the center of a new book by two American experts on Iran, is raising eyebrows in Washington even as a new round of talks between world powers and Iran over Tehran's advancing uranium-enrichment program began Tuesday.
The talks in Almaty, Kazakhstan, between Iran and the five permanent members of the United Nations Security Council (the US, Russia, China, Britain, France) plus Germany, offered few initial glimmers of progress toward defusing a crisis careening toward confrontation.
---