Marco Rubio sounds a lot like Obama in big foreign-policy speech
Sen. Marco Rubio, seen as being on the Republican presidential short list in 2016, delivered a foreign policy speech Wednesday that included a lot of common ground with President Obama.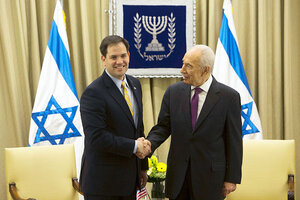 Ronen Zvulun/Reuters
Bullets, though not the weapons firing them, is what Sen. Marco Rubio (R) of Florida says he would advocate providing Syria's rebels.
That suggestion, proposed in a Middle East-oriented talk Senator Rubio gave at a Washington think tank Wednesday, was about as far as the rising Republican foreign-policy authority strayed from Obama administration policy as he discussed his views on issues ranging from Iran to Israel and the Palestinians.
Rubio recently published an article entitled "Refusal to Lead" in Foreign Policy magazine, in which he criticized President Obama for neglecting America's leadership role in international issues from Syria to North Korea's nuclear challenge to the global promotion of democracy and human rights.
But in his talk at the Washington Institute for Near East Policy Wednesday, the man who is on most pundits' presidential short list for 2016 said little that sounded substantively different from the Obama administration.
---