Anti-Israel remarks test John Kerry's diplomacy in Turkey
Secretary of State John Kerry traveled to Turkey to stress points of agreement with the ally. Now, he's putting out fires after the prime minister made comments maligning Israel.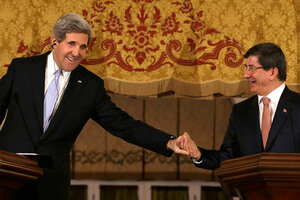 Jacquelyn Martin/AP
Secretary of State John Kerry is no stranger to prickly diplomatic situations – he smoothed ruffled feathers in Afghanistan and Pakistan in recent years as President Obama's troubleshooting envoy to those two problematic partners.
But his skills got a particularly tricky testing in Turkey Friday, where Secretary Kerry arrived for talks two days after Prime Minister Recep Tayyip Erdogan called Zionism a "crime against humanity" as grave as anti-Semitism or Islamophopia.
And to think one of Kerry's purposes in making a stop in Turkey on his first overseas trip as secretary of State was to encourage the NATO ally to repair its frayed relations with Israel.
Instead, Kerry found himself admonishing the Turkish leader for what he said the US considered an "objectionable" comment. Indeed, the White House on Friday issued a statement rejecting Mr. Erdogan's equation of Zionism with other crimes against humanity as "offensive and wrong."
Speaking Wednesday at a United Nations conference in Vienna meant to encourage dialogue between the West and Islam, Erdogan said, "It is necessary that we must consider – just like Zionism, or anti-Semitism, or fascism – Islamophobia as a crime against humanity."
---