Iran nuclear talks: Saudis, IAEA, voice doubt over Tehran's intentions
The Saudi foreign minister and director general of the UN's IAEA both voice suspicions that Iran is using nuclear talks as a delaying tactic to allow its nuclear program time to advance.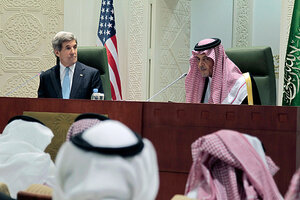 Fahad Shadeed/Reuters
The head of the United Nations nuclear watchdog agency charged Iran Monday with using delaying tactics to put off inspection of a key military research site – just hours after Saudi Arabia's foreign minister told Secretary of State John Kerry that Iran's only interest in nuclear talks is "further negotiation" to give its nuclear program more time.
The comments by the International Atomic Energy Agency (IAEA) director general, Yukiya Amano, in Geneva and by Saudi Prince Saud al-Faisal in Riyadh served as a kind of reality check after a flurry of optimism about resolving Iran's nuclear crisis diplomatically that followed a round of talks last week between Iran and a group of world powers including the United States.
Secretary Kerry, who was in Riyadh Sunday as part of an 11-day overseas trip, said at a news conference that "there is a finite amount of time" for negotiations to resolve differences over Iran's advancing uranium enrichment program. Both the US and Saudi Arabia prefer a diplomatic solution, Kerry said, adding that "the window for a diplomatic solution … cannot remain open indefinitely."
---