Why North Korea threat to abandon armistice rings hollow
North Korea has already claimed to abandon its armistice with the South once – in 2009, when, like today, it was facing a new round of sanctions for a nuclear test.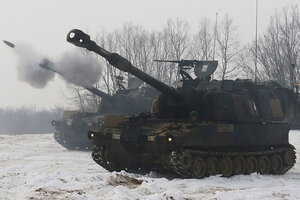 Lim Byung-sik/Yonhap/Reuters/File
If North Korea's bellicose declaration Tuesday that it was threatening to withdraw from the Korean War armistice in response to annual US-South Korea military exercises sounded a little familiar, there's a good reason.
Pyongyang had already announced its withdrawal from the 1953 armistice in 2009 when, like today, the North was fuming over mounting international pressure in response to its nuclear program and military activities.
The United States announced Tuesday that it had agreed with China on a North Korea sanctions resolution it expects the United Nations Security Council to adopt by the end of the week. North Korea's last announcement of a "nullification" of the armistice also accompanied a round of UN sanctions.
"Maybe North Korea should check its files, because they already abrogated the armistice in May 2009," says Bruce Klingner, a Northeast Asia expert at the Heritage Foundation's Asian Studies Center in Washington. "They said at the time they had abrogated it and were no longer bound by it," Mr. Klinger says, "so I guess you could say history is repeating itself."
---